Residential Listings and Sales Cool as Hot Summer Begins
Total residential unit sales in the Greater Edmonton Area (GEA) real estate market for June 2023 hit 2,596, decreasing both 2.1% compared to June 2022 and 4.6% from May 2023. 
New residential listings were down 14.8% year-over-year from June 2022, while also noting a drop of 3.9% from May 2023. 
Overall inventory in the GEA was down 11.7% from June of last year, and up 0.5% from the previous month.

The MLS® Home Price Index (HPI) composite benchmark price* in the GEA came in at $383,600, resulting in an increase of 1.3% from May 2023, but a decrease of 7.2% from June 2022.

All residential listings averaged 41 days on the market, increasing by nine days year-over-year and dropping one day from May 2023.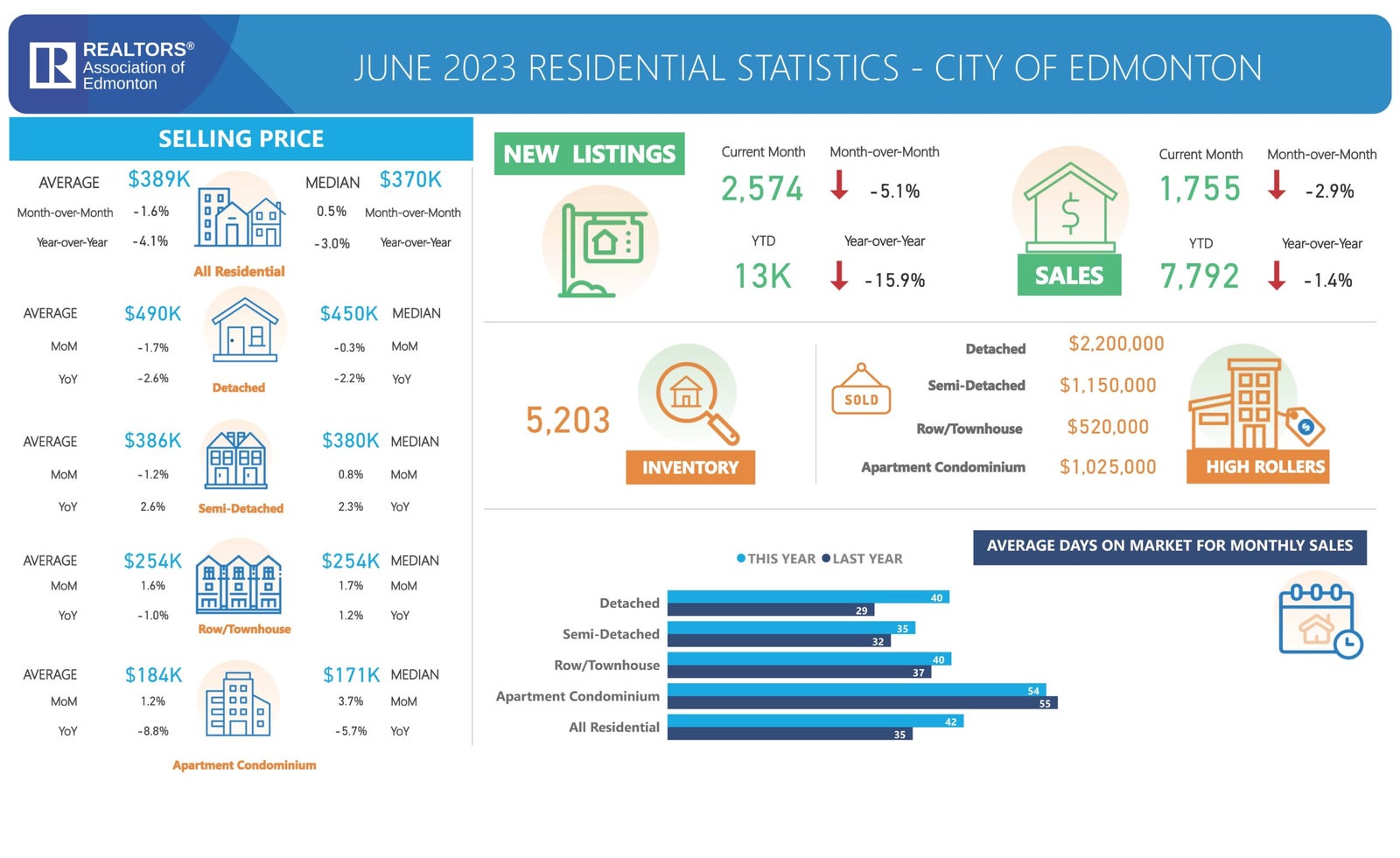 "While we've noted that market activity has cooled heading into the summer months, we've seen slight improvements in average prices across several categories," says REALTORS® Association of Edmonton 2023 Board Chair Melanie Boles. "Although detached homes saw a decrease of 2.7% from May 2023, semi-detached homes, row/townhouses and apartment condominiums all saw slight improvements in their average prices from the previous month."
Detached unit 
sales were down 5.1% from June 2022 and decreased 6.0% from May 2023 at 1,594
average prices hit $412,334, a 3.1% decrease from June 2022, and a drop of 2.3% from May 2023. Detached homes averaged $500,496, noting a 1.8% year-over-year drop and 2.7% decrease from May 2023
averaged 40 days on the market, seeing no change from May 2023
Semi-detached 
sales were down 9.0% year-over-year but increased by 4.3% from May 2023
average of $382,883, resulting in a small 2.6% increase year-over-year, and an increase of 0.2% from the previous month
averaged 34 days on the market, decreasing three days from the previous month
Row/Townhouse 
sales saw decreases both year-over-year and month-over-month, noting drops of 6.9% and 17.3% respectively. 
prices were up both 0.7% from June 2022 and 1.7% month-over-month, selling at $257,812. 
averaging 40 days on the market, a decrease of two days month-over-month. 
Apartment Condominium 
sales had increases of 26.0% from June 2022 and 6.8% from the previous month.
average prices hit $194,910, showing an increase of 0.9% from last month and a drop of 4.9% from June 2022.
averaged 55 days on the market, showing a one-day drop from May 2023.
What we see:
Higher interest rates continue to affect buying practices with buyers that are on the fence taking their time to shop. Prices have remain to be very attractive with a good mix of buyers migrating from other provinces to the city and finding very good vale.
Condo sales saw a turn around with many buyers seeing strength back into being back in the core and convenience to work. Prices are extremely attractive to many buyers taking advantage of the market recovering and finding housing to be more competitive then they like. 
Buying now means prices are starting to trend upwards and you can lock in a great opportunity. Higher interest rates mean more cash buyers or higher down payment but overall reasonable purchase prices are being negotiated.
Selling now means taking advantage of the summer market, prices are still recovering but depending on the right market, it is competitive with inventory being lower than normal as it catches up with demand after a busy spring.